The audience could witness great matches, exciting clashes and Eger's success at the HRT Sped TOP 8 Men + Women + D Competition.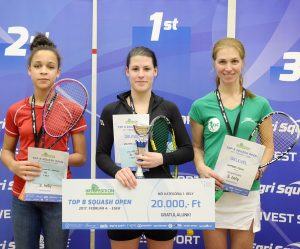 The semi-final of the women's competition caused quite a surprise, junior, Hannah Chukwu played courageously and bested her opponent, Edina Szombat. However Hannah could not overcome her opponent, Csenge Kiss-Máté, in the final, who ended up winning the women's competition with her balanced play throughout the day.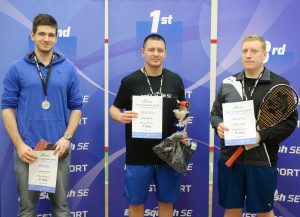 In the D category two of the "Eger Stars" playing on the home field took their place on the stand. Csaba Végert of Eger won the bronze battle. In the final, Zoltán Bihari, also of Eger, in his first individual competition closed the day undefeated and did what he had to do against András Wiandt.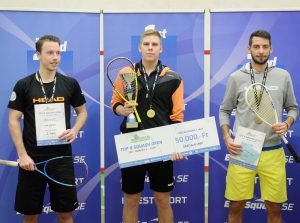 The 16 scoreboard at the TOP 8 turned out very strong. The audience in Eger saw heated battles, epic 3-2 matches. Marci Szabóky was unfortunately not able to play his bronze match due to an injury. Peti Hoffmann finished 3rd. The final was between Benedek Sebők and Balász Farkas. Beni fought hard, he even had a set ball in the 3rd set, but Balász proved that it is for good reason that he is at the top of the Hungarian ranking. Balász Farkas achieved a well-deserved win at the HRT Spedition Top8 Squash Open.
Beyond the junior ranking competition and the team championship round the Top competition was held in Eger for the first time. The organizer, Egri Squash Se, thanks to the hard work of Petra Láng and István Gulyás did everything to ensure the standards of the competition and a great atmosphere. The courts were good and the online live broadcast with Zsolt Homoródi as the commentator was flawless, lunch was delicious, the promotions, awards and raffle prizes were super. Everything went very well!
Eger showed that we are not only enthusiastic, but he are pros when it comes to organizing a competition.
We would like to thank our sponsors for their support, especially HRT Spedition for all their help!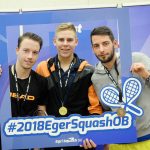 Eger has begun to lobby for the organization of the 30th annual National Individual Squash Championship in 2018, because at the end of the competition the #2018EgerSquashOB promotion had begun.
What we want is to hold a big squash celebration on the glass court in Dobó Square next year! Go Eger! Go Hungarian Squash!